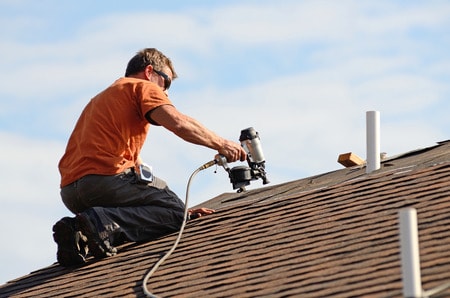 01 Nov

Tulsa Roofing Companies Near Me
If you are looking for a local Tulsa Roofing Company that's near me look no further than On the Rock Roofing.
In Tulsa it is all to common that roofs are damaged or destroyed from inclement weather.  Our team of Tulsa roofing contractors have seen it all and they know how to fix it all.  If your roof has been damaged or destroyed from a Tulsa storm call On the Rock Roofing to come assess the damage and work with your insurance company to see that your roof gets repaired or replaced.  Your roof protects one of your most valuable assets.  Not to mention the family that your roof covers.  It's important to make sure that your roof is functioning properly after high winds or hail has hit your home.
Types of Roof Damage | Tulsa Roof Repair
Tulsa Hail Storm:  If you've been in an Oklahoma hail storm you know the damage that golf ball sized hail can cause.  The effects on a roof are devastating.  The damage that hail can cause can lead to leaks and granular loss.  If left untreated it can lead to damage to the contents of your home. Often times the best remedy for hail damage is a total Tulsa roof replacement.  It's important to work with a local Tulsa roof repair company that can talk to your insurance agent and help through out the process.
Tulsa Tornado Damage: When a tornado strikes the Tulsa area it leaves a wave of damage in it's wake.  It uproots trees, knocks out windows and rips the shingles right off of the roof. Sometimes it even pulls off the deck and struts.  It's import to contact a local roof repair expert if your roof has been damaged by a tornado.  When working with a team of roof repair experts near me, they can create an action plan to take care of your roofing needs.
High wind Damage:  Oklahoma is known for their high winds sweeping down the plains.  This is true in the Tulsa area.  Winds of up to 40-50 miles per hour occur in the spring in various parts of the state.  When these winds strike it can damage homes and roofs when objects are thrown on the roof or through the window.  High winds also damage trees or cause them to fall on the house or roof.  When faced with an emergency like this it's critical to act fast and contact our team to assess your roof repair.
Sleet and Ice:  The extreme cold weather in Tulsa can also cause problems for your roof.  If you experienced heavy sleet or snow you may need a free roofing inspection from one of our Tulsa roof repair experts.  A member of our team will come by and assess whether the sleet or heavy snow has caused damage to your roof.  The weight from several pounds of ice or snow can lead to roof cracking and damage.  If your roof has been damaged by cold inclement weather it may need to be repaired.  Our team can make basic repairs to your roof to make sure that it is able to withstand cold or hot weather.  Tulsa roof repair can be done in the winter or summer months.  It is important that the issue is fixed quickly after the damage to makes sure that moisture can't get into the house.
Heat: Extreme Oklahoma a heat can cause damage to your roof.  This can cause the need for a Tulsa roof repair expert to inspect the roof for granular loss and cracking.  When a roof gets to hot year after year it can shorten the life of the roof and necessitate a new roof.  When the roof has undergone extreme temperatures it's important that a Tulsa roof repair expert get on the roof to properly assess the ability of the roof to function properly.  When a roof doesn't function properly it doesn't provide the layer of protection that your family and belongings need.  Our team will work hard to ensure that your roof is at peak performance no mater what extreme temperatures that is faces.
Inclement weather can lead to several issues with your roof.  It's important for our team of Tulsa roof repair experts near me to address these issues.
Roof Repair Issues/Problems
Leaky Roof: One of the most common problems that can happen after a server Oklahoma storm is a leaky roof.  This is when water is able to penetrate the roofing surface and seep into the structure below.  When a leak occurs nothing in the house is safe. It can damage electronics, furniture, carpet, cloths, shoes, bedding, stairs, built in cabinets, or a variety of other house hold items.  It's is vital that he leaky roof is fixed immediately.  If not treated it could also lead to more serious issues including mold.  When your roof leaks it's time to call a Tulsa Roof Repair expert to repair the leaky roof or replace the roof.
Drafty Roof: When a roof has been damaged it's possible that the efficiency of your home has been compromised.  The hot or cold air can come in or leave depending on the season.  When parts of a roof are missing it's important to get he roof replaced to help maintain the efficiency of your homes heating and cooling units.
Damaged Flashing:  When a home has been damaged by a storm the damage to the flashing is often over looked.  Flashing is what seals the roof and helps to keep the water out.  This is sometimes overlooked when assessing roof damage. It's critical to have flashing in place on the sides of the roof and around the chimney.  You may need a Tulsa roof repair to fix the flashing problems.  When flashing is missing it can make the roof venerable to all types of other weather issues.
Tulsa Roof Repair | Tulsa Roofing Contractor
When you are in need of roof repair it's important that your hire the right Tulsa roofing company to come out and assess the damage and give you a fair and honest assessment.  Our team of Tulsa roof repair experts will work hard to get your roof fixed and back to the important job of protecting your home and family.
Tulsa Water Damage | Tulsa Roof Leaks
If you're faced with damage on the interior of your home it's important that it is taken care of quickly. Tulsa water damage can lead to mold and other lasting issues.