Skiatook Roofing and Construction
On the Rock Roofing is here to provide you with a hassle-free experience from start to finish. We have been in business since 2003 and pride ourselves on our customer service, quality workmanship as well as providing an affordable price point for all of those who need new or reroofing done! You can trust us because we offer over 30 years' worth of expertise throughout downtown Tulsa during any type of weather condition too which means less time worrying about what's going up outside while focusing more energy on being productive inside your home. Residential roofs are an important investment for any homeowner, and it's critical that you hire someone with reliable services. Our team of experienced workers will handle your residential roof repair or installation needs so they don't have to worry about getting into debt from paying us later on down the line! In addition, On the Rock has been providing quality commercial roofing and construction services in Skiatook and Tulsa since 2003. Our team understands what it takes to install or repair a leaky roof, which is why we make sure that no matter how small your problem might seem – you don't have to worry about losing any time because our friendly staff will come out for free inspections at any time!
Our Services
Repairs

Replacing roof shingles
Emergency leak repairs
Skylight repairs
Storm damage repairs
Tulsa and Skiatook Commercial Roofing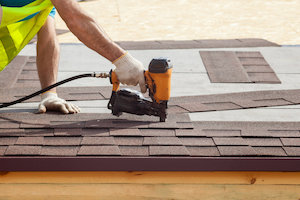 Roofing and Construction Experts
When a Tulsa roofer needs to come out and fix your home or business after the storm, it is time for our team. We are here with experience dealing with all types of disasters including but not limited to storms and tornadoes that can strike at any moment without warning! Our experienced technicians will assess what kind of needed repairs are on their homes' roofs before creating an action plan. We are a team of experienced roofers in Tulsa. When a storm or tornado hits your home, call us for help assessing any damages on-site and creating an action plan to get them repaired as soon as possible! From our specialized expertise in getting jobs done quickly – we'll work closely together so you can rest easy knowing that everything will go smoothly from start to finish. We at "On The Rock" understand what it takes not only to provide quality services but also customer satisfaction because after all isn't this one thing every business deserves? Contact our team of experienced professionals for any type or size of roofing need. We can help you save money on your next project by providing the most cost-effective solutions in Tulsa and Skiatook! The Tulsa area is known for its frequent storms and tornadoes. When you live in the middle of all this weather, it's important to have experienced roofers like ourselves on your team! Our experts will come out right away after any storm or hailstone hits so that no damage can happen before we get there – just call us up at (918) 504-7020 today.