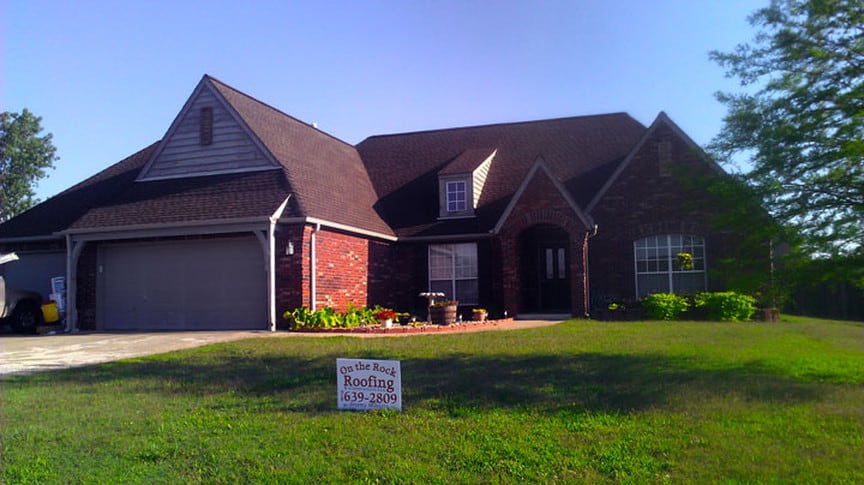 22 Jun

Is On the Rock Roofing the Right Roofer for Your Residential Roofing Job?
At On the Rock Roofing, we are dedicated to providing you with an excellent service through and through.
We pride ourselves on being the Tulsa roofing service that people can rely on. We're the rock-solid roofing service that's ready to exceed your expectations. Here are 8 reasons that you should consider working with On The Rock Roofing & Construction:

1. The first reason you should consider using us as your roofing service is our proven track record.
We believe that our reputation speaks for itself as far as the professionalism of the service that we provide, and the high level of satisfaction of those that have worked with us in the past. You can read the reviews of happy customers that received exactly the kind of work that they wanted and expected from us. We believe in growing the awareness that people have of our roofing service by operating honorably, receiving referrals from those that can attest to our high standards and great workmanship.
2. The next reason you should consider using us as your
roofing service

is because we care about the quality of the service that we provide.

We aren't your run of the mill roofing service. We are highly trained and certified professionals. When you're looking for a roofing company, you don't want just any company doing the work for you. You want a roofing service that you can trust, rely upon, and have confidence in. When we provide service to you, if you aren't satisfied with the quality of the work that you have received, then we aren't satisfied. Our goal every time when getting to a work site is to perform at the highest level of abilities in order to provide you with the best possible finished product. We will do whatever it takes to provide you with the professional roofing service that you desire. If you live in the Tulsa area, On The Rock Roofing & Construction is the roofing service for you.
3. We care about your experience working with us. We know that having major work done on your home or business can be a stressful situation in the first place.
That's why do everything we can to remove the stress from your situation by being kind, courteous, taking time to answer any questions you have, and working with you to make sure that you are comfortable with the service we are providing. When you choose us as your roofing service, you are choosing a team that is going to get the job done professionally and efficiently. You won't have to worry about a thing when you work with On The Rock Roofing & Construction.
4. We know that every situation is different, that's why we have made certain that we can meet most specialized needs and requests.
We've repaired and replaced residential and commercial roofs all over the Tulsa area, doing all kinds of unique work. This experience has helped better prepare us for helping you. We are Tulsa's trusted roofing service. We want to meet whatever specialized need or request that you might have. If you have any doubts that we're not able to provide the service that you are wanting to you, then we encourage you to contact us with any questions or concerns. Our professionals would be happy to discuss the type of work that you're wanting, and give you further information as to how we might be able to help you with the work you are needing.
5. Another reason you should work with us is because we have strong values and we stick to them.
When we're working for you, we keep ourselves accountable and hold ourselves to only the highest standards. Each member of our team will blow you away with both the quality of the work they do, as well as their personal attitude. We believe that professionalism is more than just what we do at the workplace, it's how we live our lives. We believe in the value of a strong work ethic, honesty, reliability, and consistency.
6. Another great reason to work with On The Rock Roofing as your roofing service is because of the transparency we bring to the table.
We want to you have confidence that you are receiving the right work at the right price. Because of this, we let you into the process. You are more than welcome to see behind the scenes what we're doing to take care of your roofing needs. We invite you to be open with any questions or concerns that you have. We are more than happy to sit down with you and talk through every single step in the process.
7. You should consider using us as your Tulsa roofing service because we treat others they that we would want to be treated.
We know that if we were in a bad situation with our roof that we would want a company that would step in and take care of us through and through. We would want a team that always strives for excellence. A team ready to take on any unique challenges or demands that come their way. A team that wants us to be fully satisfied with the work that we've received. Understanding what we would want and expect out of a roofing service has helped us shape our company into exactly what people want.
8. Finally, you should consider using us as your Tulsa roofing service because we love what we do.
We are passionate about the services that we provide, and that passion will carry through to the level of work that we provide to you. We take joy in doing everything that we do with a spirit of excellence. We want you to feel as though you have worked with the best roofing service possible for your situation. We can't wait to work with you and for you to see our incredible service for yourself! If you have any questions at all about our services, please feel free to reach out to us today!